Barcelona, Spain
Submer is partnering with BitNAP Datacenter to deliver a green datacenter right in the heart of L'Hospitalet de Llobregat, the operational hub of Barcelona.
BitNap, a neutral datacenter provider founded in 2005 is situated in L'Hospitalet de Llobregat and offers a wide range of innovative solutions to make designing and operating datacenters highly efficient and more sustainable.
‍Liquid Immersion Cooling Cleantech at BitNAP
Submer is proud to showcase the SmartPod advanced Immersion Cooling system at BitNAP. The installation consists of 10 SmartPod units delivering up to 500kW of heat dissipation. The SmartPod cleantech design and the use of the dielectric and environmentally safe SmartCoolant guarantee:
Unprecedented high-density configuration in a very limited space.
Saving on total electric consumption by up to 50%.
A certified PUE (Power Usage Effectiveness) of 1.03, and a WUE (Water Usage Effectiveness) of 180.
Zero water consumption thanks to the closed loop of the secondary cooling system.
Renewable Energies to Power Next Generation Datacenters
This is the first sustainable Liquid Immersion Cooling cluster in Spain to rely on renewable energies as a secondary cooling system, being BitNAP part of the district heating and cooling (DHC) system operated by Ecoenergies. The smart thermal energy network designed by Ecoenergies produces – among other things – cold water used by BitNAP as a secondary cooling loop. This smart grid – powered by a biomass plant that uses residues from Barcelona's parks and gardens, gas and electricity – reduces the fossil fuel energy consumption by 67,000 MWh and the CO2 emissions by 13,412 T per year.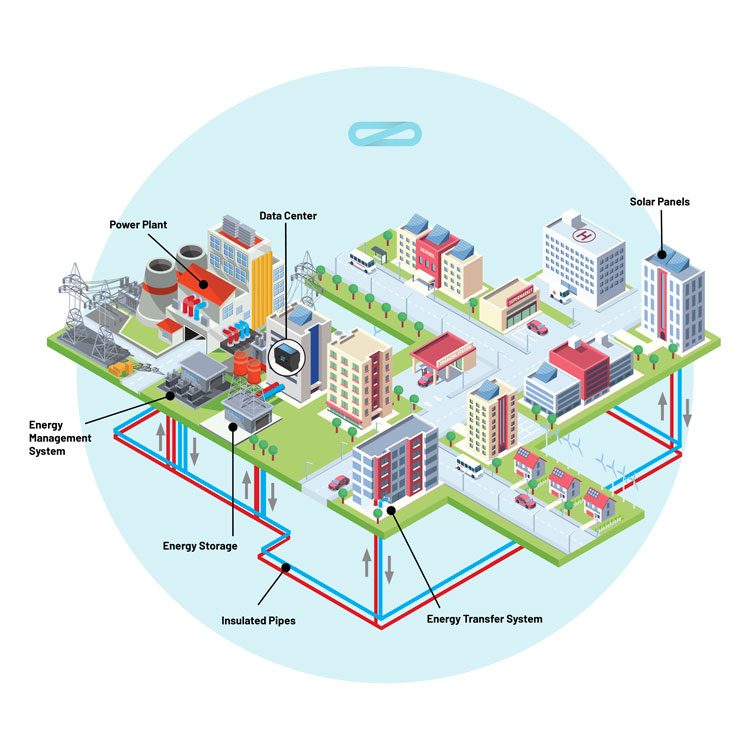 "The installation at BitNAP is the perfect example of how our Immersion Cooling solution can be easily deployed in any pre-existing facility, reaching unrivalled IT Hardware density and achieving huge savings on electricity and zero waste of water. In this way, we minimize the impact on the environment while guaranteeing unrivalled computational capacity. The installation at BitNAP in particular uses a centralized industrial district cooling/heating system instead of traditional cooling towers on the site. This smart grid works according to a very similar principle of the SmartPod technology: once the water has been used to cool the datacenter, it is pumped back into the district cooling/heating system for another industry to use it in their industrial process. This is the first of many examples to come of real symbiosis between datacenters, renewable energies, smart technology and a truly viable industrial application", said Daniel Pope, CEO of Submer.
About Submer
We believe that our digital world can be safer, more efficient, less expensive, and environmentally friendly. Launched in 2015, Submer is solving the biggest problems of datacenter, HPC, hyperscale, and Edge applications to make that future possible. The SmartPodX Immersion Cooling System is the first step on the journey that will lead towards next generation datacenters. Last August 2019, Submer opened its new North American headquarters in Ashburn, Virginia, right in the heart of Data Center Alley. Discover Submer at: submer.com.