The webinar of November 2019 was a very special one! We had live from SC19, Submer's Scott Noteboom, newly appointed CTO, Diarmuid Daltún, and Gloria Fluxà our CMO!
Together we discussed what the future holds for Submer, and why Scott (former Apple & Yahoo) chose to dive into immersion cooling by joining Submer Technologies. Last but not least, Scott and Diarmuid took us on a virtual tour of SC19, focusing on their favorite exhibits at the show.
Guest Speaker: Scott Noteboom
‍CTO at Submer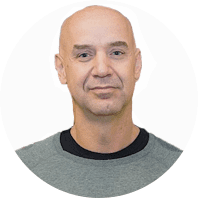 "I enjoy learning something new everyday and helping people be their best"

Scott Noteboom
Former VP of Yahoo! and Head of Infrastructure Strategy, Design and Development at Apple, Scott Noteboom, is the founder of Litbit. The newly appointed CTO of Submer, has extensive experience in different fields: from video games development to web based software / SaaS, from Internet Service Provider to VOIP APIs, from clouds based on open source platforms to energy efficient datacenters, from renewable energy solutions to Artificial Intelligence and Open Source IoT platform. And now he's ready for a new adventure planning the future of highly efficient, sustainable datacenters.
Video
In our 10th webinar, we discussed the future of Submer, and what moved Scott (former Apple & Yahoo) to embrace immersion cooling by joining us.