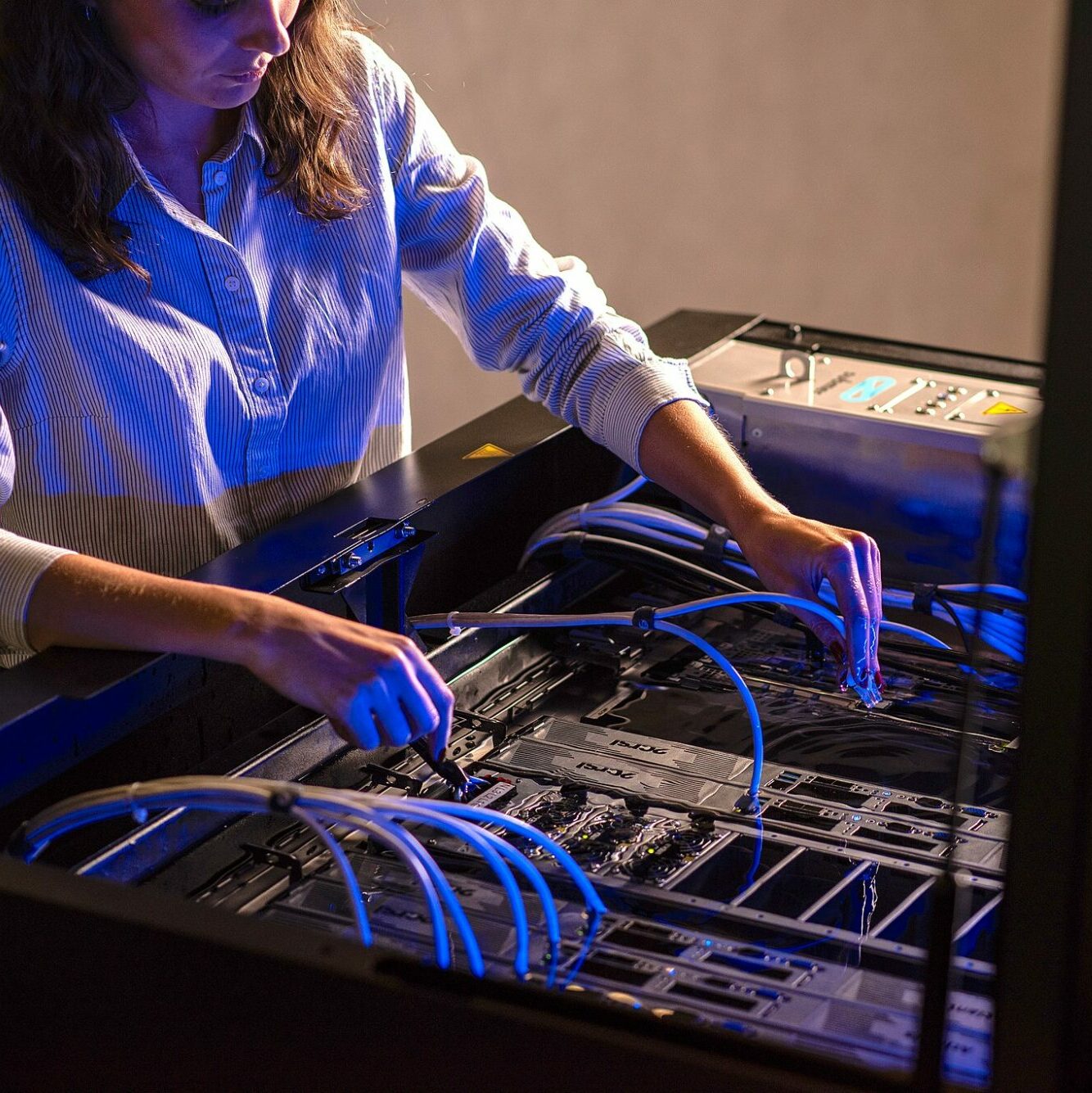 Immersion Cooling is a technique used to cool components of IT equipment that consists of submerging the computer components in a thermally conductive and dielectric liquid. Through this practice, the servers are cooled and heat is transferred from the source to the liquid.
When we talk about Immersion Cooling, we also need to discuss the different types of Immersion Cooling, as well as the applications of Immersion cooling. The practice of Immersion Cooling has a multitude of benefits particularly as it allows datacenters to be managed in a greener and more sustainable manner. Environmental concerns has been a huge catalyst for the adoption of the technology in recent years.
At Submer, we believe in green datacenters. Our solutions are powered by Immersion Cooling, and more specifically single-phase Immersion Cooling. Below you will learn more about Immersion cooling and its benefits, whether you are new to the technique or consider yourself a pro, read on to discover something new!
The basics of Immersion Cooling
To better understand what Immersion Cooling can do for datacenters, we need to clarify what is Immersion Cooling, why we should apply Immersion Cooling and how the technology works.
What Immersion Cooling really means
As we already mentioned, Immersion Cooling is a method that is slowly becoming popular with innovative datacenters. But what makes the technique so popular and what's the difference?
So, why Immersion Cooling?
Immersion Cooling could be the smart choice from an operations perspective and also from a practical perspective. Why?
Immersion Cooling simplifies datacenter commissioning.
Cooling simplifies datacenter maintenance.
With Immersion Cooling the deployment
is faster and simpler.
Furthermore, Immersion cooling for datacenters makes sense from an environmental perspective, an area that is of increasing concern for the industry.
Acording to the Europen Comission, by 2020 data centers used to consume about 2% of the world's electricity. By 2030 is expected this percentage grows up to 8%.
The U.S. Environmental Protection Agency estimates that 28% of the water use in office buildings is for the cooling and heating system.
In what we consider a conventional datacenter, the amount of potable water consumed per year is up to 464,242,900.6992 litres.
The benefits of Immersion Cooling
The practice of Immersion cooling has a huge number of benefits, especially when it comes to sustainability and efficiency. Why is this important? These are two of the biggest challenges that the industry must overcome, right now and in the future. Immersion cooling significantly reduces the amount of water used, levels of carbon emissions, and much more.
Immersion cooling is scalable and modular

Overcome the challenges of space and scalability by implementing Immersion cooling within your infrastructure.
Immersion cooling can help to reduce the carbon footprint of your datacenter

Traditional datacenters use a high amount of fossil fuels to help power their cooling systems. Immersion requires significantly less power to run and to cool the IT servers and equipment, significantly reducing the amount of CO2 produced.
Immersion cooling can help to improve your efficiency and reduce the use of natural resources

A smart datacenter should be able to tap into clean and renewable energy sources. By using Immersion cooling, you are able to utilize high-power computing that is resilient and secure, without putting a strain on the environment. At Submer we harness the power of single-phase Immersion cooling to enable our customers to turn their potential burden on the environment into a benefit. In March 2020, Submer announced the installation of 10 SmartPod units delivering up to 500kW of heat dissipation at a neutral datacenter BitNap (Barcelona, Spain). This is the first sustainable Liquid Immersion Cooling cluster in Spain to rely on renewable energies as a secondary cooling system, BitNAP is a part of the district heating and cooling (DHC) system operated by Ecoenergies.

"This is the first of many examples to come of real symbiosis between datacenters, renewable energies, smart technology and a truly viable industrial application".

Daniel Pope

Co-founder and CEO of Submer
Check here to see in detail the Benefits of Immersion Cooling.
Types of immersion cooling
The main options that we have to cool datacenters are air conditioning, direct to chip and liquid cooling. Depending on the technique chosen, datacenters will be better or worse equipped to face challenges in terms of performance, density, efficiency, space and sustainability.
At Submer we are most interested in Liquid cooling since we believe that this is the best way to achieve higher levels of efficiency.
There are a few different types of Liquid cooling, including Immersion cooling. There are two different methods of Immersion cooling on the market. The names of the two different methods are Single-Phase Immersion Cooling and Two-Phase Immersion Cooling. So, what are the differences between single-phase and two-phase Immersion?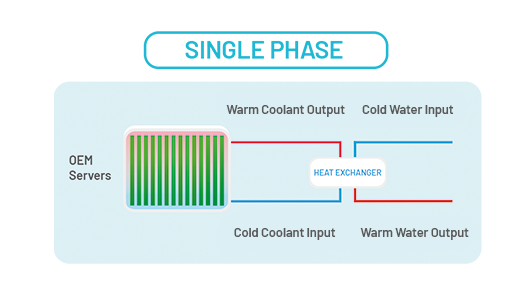 Single-Phase Immersion Cooling
Single-Phase coolant never changes state, it never boils or freezes and always remains in a liquid form.
Easier to access.
Does not require a high level of maintenance.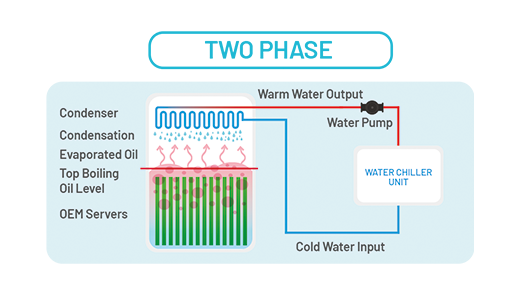 Two-Phase Immersion Cooling
In two-phase cooling, the working fluid boils and thus exists in both a liquid and gas phase.
Complex to access.
Requieres more maintenance.
Submer's Immersion Cooling solutions are based on single-phase Immersion cooling. The main reason we chose this technique is that it better aligns with our core values of sustainability and having a positive impact on the environment. How? single-phase Immersion cooling allows use a biodegradable, non-toxic, non-flammable, non-corrosive liquid that has a life span that is longer than the average life of many datacenters.
Immersion cooling: the fluid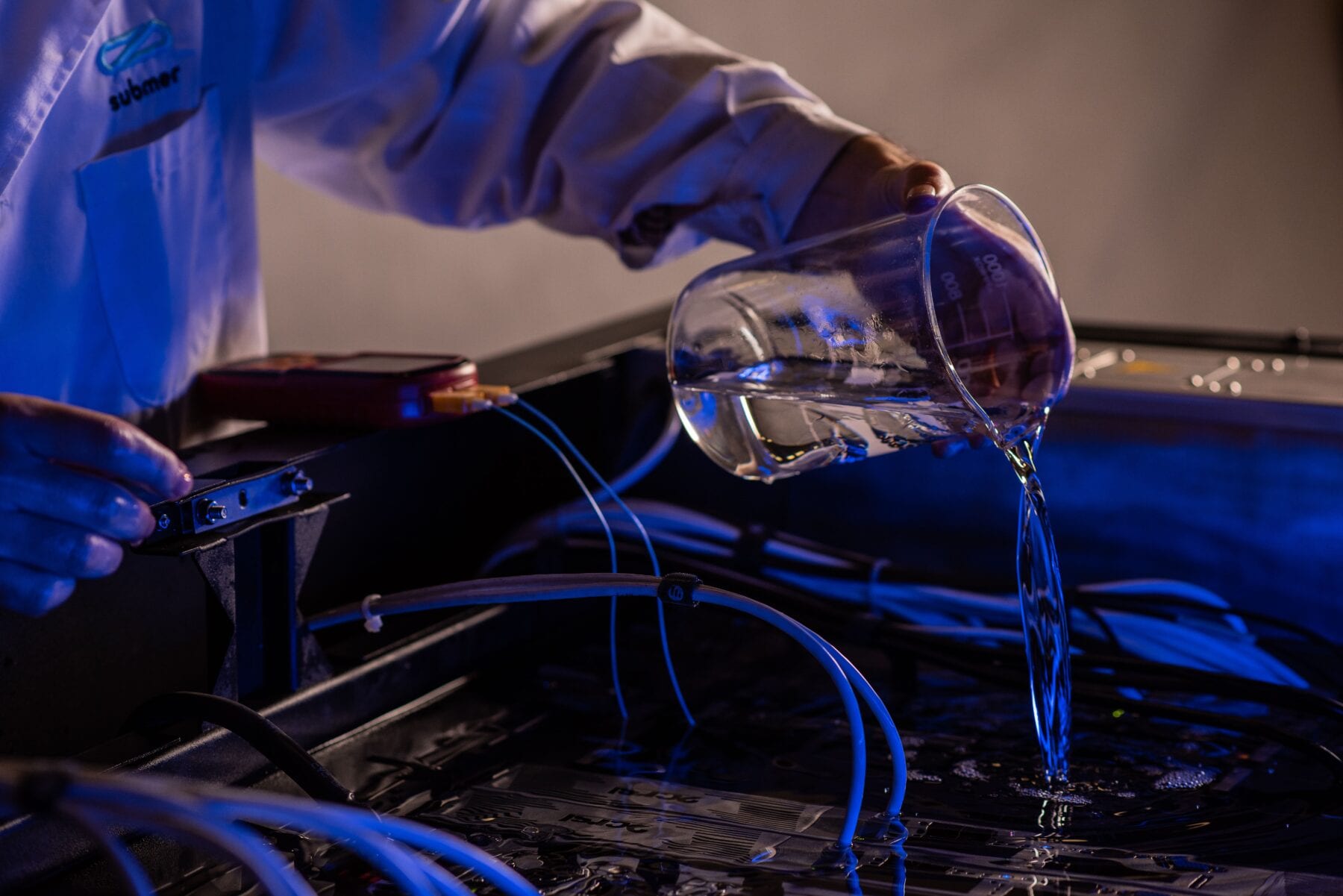 The reason behind why immersion cooling is more efficient than air cooling is, among others, because of the fluid. Why? The liquid is the key to how heat is conducted. The choice of liquid is fundamental if the full benefits of Immersion cooling are to be achieved.
There are two types of dielectric liquids, deionized water and dielectric fluids. Dielectric fluids are based on hydrocarbon compounds. The compounds can be from vegetable oils, mineral oils, fluorocarbons or other synthetic fluids. Dielectric liquids are classified depending on whether they are used within single-phase or two-phase immersion cooling.
What type of fluid is best for Immersion cooling?
The following 5 questions will help you to understand which liquid is the most appropriate one for you:
Which of these liquids will be compatible with my IT hardware?
Which will be safe and easy to work with?
Which one has the longest life-span?
Will the liquid impact the environment in the future?
Is there any difference in the cooling performance depending on the liquid?
The Smart Coolant
After exploring all the fluids that the market had to offer, we decided to take matters into our own hands and create our own dielectric fluid. The SmartCoolant is our Goldilocks solution to the Immersion cooling problem and is designed using our hands-on experience designing Immersion cooling systems.
Below is a live demo of our SmartCoolant. See Dr Peter Cooper (PhD), our Chemical Engineer, and Daniel Pope, our CEO, using a blowtorch to illustrate how our SmartCoolant is truly non-flammable. To better understand the key differences between dielectric fluids, how the fluid works, and everything you need to know about it, click here.
Differences with other Cooling techniques
Until now, most datacenters have used air cooling to regulate the temperature of the IT equipment. However, recent studies have shown that air cooling is no longer a viable technique to keep up with the demands of the needs of modern datacenters. This has left many searching for alternative techniques, Immersion cooling presents a compelling argument thanks to its ability to offer users high-density, low latency and higher levels of efficiency and sustainability in comparison to air. Let's take a look at some of the other key differences and advantages Immersion cooling can offer.
Submer

vs

other cooling technologies

Did you know that Immersion Cooling is more efficient than traditional coling technologisd…
1,400 times

better thermal conductor than air

> 40% less

TCO

*

8 times less

conductor than air
SUBMER
vs
Air Cooling
End to end solution to

densities

and

efficiency

challenges

Compatible with

Fiber Optics
No need of great adaptations

to all your HW
SUBMER
vs
Liquid Cooling
Scalable

& modular

Owns

fullstack

of the technology

SmartCoolant life-span to

20 years
SUBMER
vs
Immersion Cooling Competitors
* $ Total Cost of Ownership SmartCoolant:
he = 2050 W/m2K
Air: he = 10 W/m2K
As you can see, Immersion cooling is a very good option to help Datacenters solve the challenges that they currently face and also to ensure that it is set up to deal with any challenges it may face in the future.
If we plan to improve datacenter capabilities in order to achieve more density but also efficiency is something we can achieve by using Immersion Cooling. That's a good advantage if we compare Immersion Cooling with other techniques. In this 2-minute video, we discover the secrets to increase the power density of your datacenter through Submer's technology vs air-cooled racks.
Immersion Cooling applications
The applications of Immersion cooling are vast and spread across many different industries. From smart cars, agriculture, High-Frequency Trading, or cybersecurity, if the task requires high-power computing that is fast and has low latency, it is likely that you will benefit from Immersion cooling. Here is a list of other popular applications that would benefit from Immersion cooling:
At Submer we have created a range of Solutions to take the hassle out of choosing the perfect solution for your needs. Targeting four key industries ( HPC, AI/ML, Cloud and Edge), our Solutions have been designed to maximize internal footprints and achieve industry-leading operational and energy efficiency through Immersion cooling. The solutions are powered by Submer's industry-leading Immersion technology which empowers users to have high-density compute environments while simultaneously reducing their impact on their environment and increasing levels of sustainability.
Take a look at Submer's Solutions here for the Cloud, Edge, HPC and AI industry.
Immersion cooling: the products
Our Immersion cooling products are part of our 'Submer Cools' brand. We have designed a range of modular solutions that empower users to effortlessly scale their operations while simultaneously saving space and energy and increasing compute capacity. Currently, there are three core products, available in a variety of sizes allowing us to cater to every company's specific needs and requirements.
MicroPod
The MicroPod is our Edge-ready datacenter in-a-box. Built specifically to target the increasing needs of companies that need to bring their infrastructure closer to the customer such as telecommunications, streaming, or cloud computing. Purpose-built to be extremely flexible and modular, the MicroPod has integrated secondary cooling and up to 7kW of heat dissipation. Be it a warehouse, office building, in the heart of a city or in a remote area with harsh-climate conditions and far from the grid, the MicroPod will be fit for the job.
Other benefits of the MicroPod include:
Low energy footprint
Save 25-40% on Total Cost of Ownership (TCO)
Zero water consumption
+ 30% in hardware lifespan
Save 95% on Cooling OPEX
SmartPod
The SmartPod was the very first modular solution that we created and remains one of our most popular products to this day. It is available in three different sizes, the SmartPod X, SmartPodXL, and SmartPodXL+. With multi zones and 12v and 48v configurations, it is able to cater to a variety of different needs and situations. Other benefits of the SmartPod include:
Achieve a Power Usage Effectiveness (PUE) of <1.03
>50 kW or >100 kW of compute density
>100kW heat dissipation
Re-use of heat
Zero waste of water
MegaPod
The MegaPod is our latest solution and is described as our super-charged datacenter in-a-box. Meet your increasing demand for computing power and efficiency without the hurdles of traditional datacenter build. Deployment time of the MegaPod is only 16 weeks, allowing you to have a 100-800kW ready to use datacenter in a matter of weeks. The configuration of the MegaPod enables future-proof unprecedented high density and efficient infrastructure anywhere. Other benefits of the MegaPod include:
Full Turn-key solution
Tier ready
Suitable for harsh environments
Modular and flexible
Simplify site selection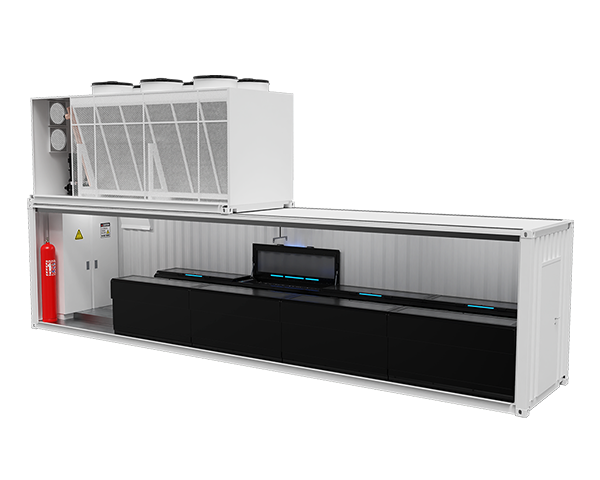 Sources
Deru, M., & Bonnema, E. (2019, 16 agosto). Testing and Evaluation of a Chemical-Free Cooling Tower Water Treatment Technology. Osti.Gov. https://www.osti.gov/biblio/1558360-testing-evaluation-chemical-free-cooling-tower-water-treatment-technology
EU Eyes Carbon-Neutral Data Centers by 2030 in Green-Tech Switch. (2020, 6 febrero). Data Center Knowledge. https://www.datacenterknowledge.com/energy/eu-eyes-carbon-neutral-data-centers-2030-green-tech-switch
Mezzanotte – Pr, M. C. \. C. M. V. B. S. (2020, 8 septiembre). Submer: When Datacenters really Start to Make Sense. Data Center Knowledge. https://www.datacenterknowledge.com/industry-perspectives/submer-when-datacenters-really-start-make-sense
Qin, Y. (2020). Micro-Manufacturing Engineering and Technology. Sciencedirect.Com. https://www.sciencedirect.com/book/9780815515456/micro-manufacturing-engineering-and-technology