Barcelona, Spain. FEBRUARY 28th, 2022.
Today, SUBMER, a leading innovator in advanced immersion cooling solutions for datacenters and Cloud and Edge computing, announced its latest project to foster a more sustainable approach to Datacenter infrastructure through better quality heat-reuse. The deployment has been commissioned by Leitat, a research organization that champions initiatives with efficiency and sustainability at their core and will operate out of DFactory, a hub for the creation of an ecosystem to encourage the promotion and development of 4.0 industry, in Barcelona. Intel is participating by delivering immersion-optimised servers to be used within the project. The solution enables circular heat-reuse models where AI and Cloud workloads are cooled through Immersion cooling and waste heat is injected into the local district heating network.
The importance of the Intel and Submer heat re-use project
At present, 98% of the energy consumed by a datacenter is rejected in the form of heat into the atmosphere. As datacenters look for different ways in which they can reduce their use of natural resources. Heat re-use represents a great opportunity for datacenters as well as an avenue for profit if engineered correctly.
The idea of heat-reuse is not brand new, in fact Datacenters have been exploring the idea of repurposing waste heat from its servers for several years, with big names like Amazon, Facebook and IBM all successfully implementing schemes to recycle heat. Despite this, adoption of the technology remains low. This is due to two fundamental issues. Temperature and transferability. Currently, waste heat is dissipated from servers at around 28-35 degrees Celsius, limiting their re-use to small scale projects or in areas close to the datacenter itself.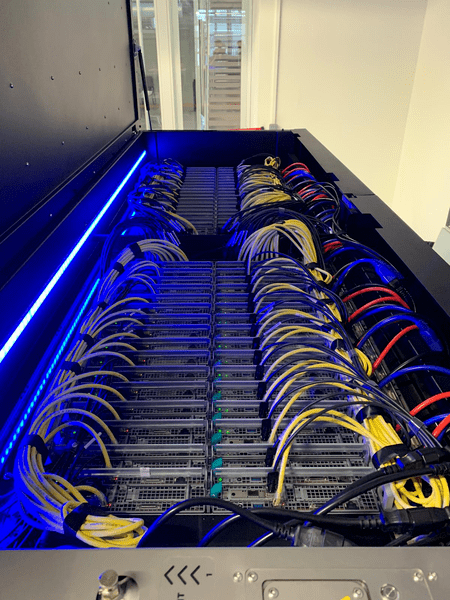 The installation at DFactory combines Submer's next-generation SmartPod XL immersion cooling platform with Intel's range of immersion-ready servers. It illustrates to the industry how these technologies can come together to deliver, an innovative, sustainable high-quality heat system that is scalable. Submer's modular active immersion cooling technology operates always in a liquid state, thus >99% heat generated by the IT equipment can be captured in the form of warm water, practically without losses and at much higher temperatures (Between 55 – 70 degrees Celsius) than previously executed. The project will serve as demonstration for a highly efficient, forward thinking heat reuse system for datacenters including those cooling next generation chips.
The partnership is another step in Submer and Intel's journey to explore, develop and collaborate with companies which are innovating with sustainable and renewable technologies to help reduce the environmental impact of the datacenter industry.
"Wider adoption of heat-reuse technologies is vital if the industry is to achieve its ever-growing targets towards more sustainable infrastructure and having a positive impact on the environment. The combination of Intel's next-generation compute technology and Submer's Immersion cooling technology allows us to prove that it is possible for reuse heat is a viable channel for the industry to improve its effects on the environment and impact the wider community through district heating."

Daniel Pope, CEO and Co-founder at Submer
As part of the project, Intel has provided immersion-ready servers that will be cooled inside of Submer's SmartPod system.
"Intel is continually working to improve sustainability. This project with Submer is a great example of how we can work together to combat environmental concerns and provides insight into what the future of the industry could look like. We look forward to similar collaborations in the future. "

Mohan Kumar, Intel Fellow, Data Center and AI Group
"The alliance with Submer and Intel in this AI Excellency Center, is aligned with our path to explore and demonstrate how innovation is the key to change past rules. This technology transforms electrical energy consumption into a circular economy asset, which will enhance current views and vision of Datacenters."

Marc Cortes, AI Excellence Center General Manager of Leitat
See the Intel and Submer heat re-use project in action
Submer and Intel will showcase the technology at Mobile World Congress 2022, at Fira, Barcelona this February. After the event, the solution will be available to visit at DFactory, Barcelona where it will be permanently installed.
About Submer
Founded in 2015, Submer provides best-in-class technology that enables data centers around the world to leverage the power of immersion cooling for HPC, hyperscale, data centers, Edge, AI, DL and blockchain applications. Headquartered in Barcelona, with offices in Virginia and Palo Alto, California, Submer consists of an international team of engineering, technological and business experts. For more information, visit submer.com.
About Leitat
Leitat, founded in 1906, has the mission of Managing Technologies to create and transfer sustainable Social, Environmental, Economic and Industrial value to companies and entities, through research and technological processes. From our state-of-the-art facilities we are collaborating with more than 45 countries and developing more than 215 projects in the fields of: Biotechnology, Health, Advanced Materials, Industrial Chemistry, Renewable Energies and New Production Processes. We concentrate our energy on promoting specialized teams in Technology Transfer, which allow generating collaborative and reliable business environments to achieve an economy based on knowledge and talent development.
It is accredited by ACCIÓ and recognized by the Ministry of Economy and Competitiveness, promotes collaboration and cooperation, providing knowledge and experience in a global environment.