August 30, 2022 – GIGABYTE Technology, (TWSE: 2376), an industry leader in high-performance servers and workstations, today announced the first wave of GIGABYTE server SKUs designed for single-phase immersion cooling from its technology partners that include Submer, Asperitas and GRC. The ever-increasing compute density in racks, and subsequent heat, has ushered in a new approach to cooling, and GIGABYTE has been a pioneer in the HPC industry and has long foreseen thermal challenges on the horizon. These new servers and our partnership offer our global customers the opportunity to confidently step out of the traditional air approach to data center cooling and enjoy the green benefits of immersion cooling while pushing the boundaries associated with elevated power density per rack.
What is the impact of GIGABYTES Immersion-ready servers?
We are at a turning point for data centers, and we must explore new infrastructure to handle the increase in heat generated by the demand for greater performance. For this inevitability, GIGABYTE has been working to develop advanced cooling solutions that include direct liquid cooling as well as single-phase immersion cooling. The initial wave of servers for single-phase includes models from the GPU-centric G292 series, multi-node H262 series, and storage focused S251 series. These new immersion server SKUs are made specifically for deployment in immersion cooling, so that users can easily and quickly integrate enterprise products with cooling tanks. Also, no product customization or modifications necessary. The series models chosen are a direct result of our continuous dialogue with our customers. And all the new compatible SKUs were modified to adapt to the specs of the tanks as well as for being submerged in a dielectric fluid. Some modifications include installing a bracket on the rear of the chassis to support the vertical installation/removal of a server into a tank, replacing some materials that are more suitable in an immersion cooling coolant, removing all fans and sensors, and so on.
What does an Immersion-ready server look like?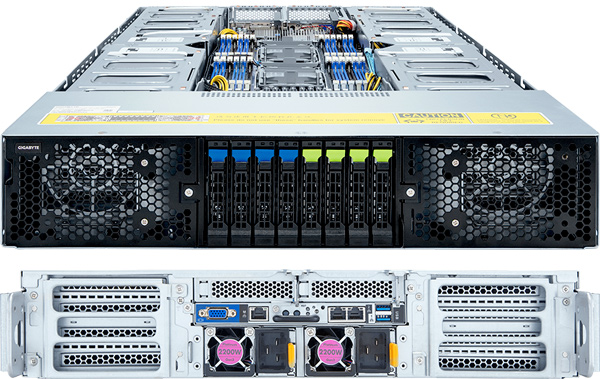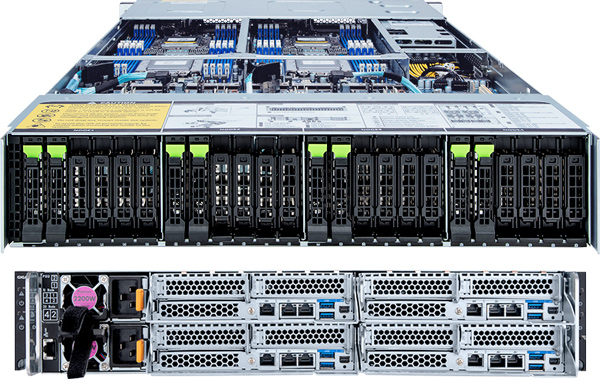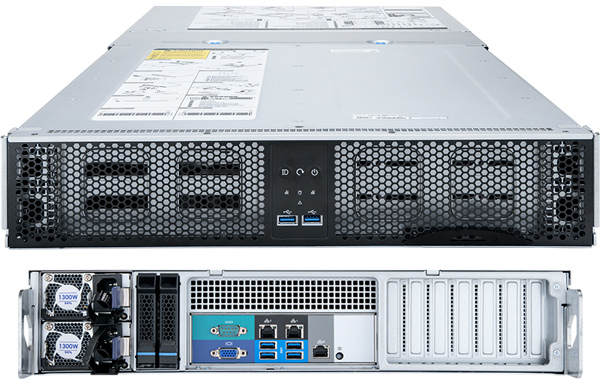 "Investing in emerging technologies is a constant and a necessity in order to fuel product development, which never stops. And we are always willing to sit down with potential technology partners that are leaders in their industries to discuss how we can create win-win situations. In the case of Asperitas, GRC, and Submer, they bring experience and proven proficiency to the table for technology in immersion cooling tanks, and together we will define a new era in data center cooling."

Vincent Wang, VP of Sales at GIGABYTE
"GIGABYTE is a recognized leader in the server space. This immersion-born product line brings peace of mind to all those wanting to roll-out large-scale immersion deployments. High-end and high-quality servers fully supported and warrantied in immersion. A clear sign that the industry is adopting the technology at an accelerated rate with sustainability as a key driver."

Daniel Pope, CEO and Co-founder at Submer
Immersion cooling is a cross-disciplinary technology that combines the disciplines of computing hardware and advanced thermal technology to deliver a cutting-edge solution. GIGABYTE's strategic alliance with immersion cooling partners is an important element of its commitment to offer a full range of efficiency driven solutions that are uniquely GIGABYTE and designed to meet the needs of global data centers that are green-minded. By cooperating with these cooling tank partners, GIGABYTE offers solutions for customers spanning the globe, whether it be sales assistance, technical support, or service locations.
Servers are also compatible with GRC and Asperitas technologies.
To submit a query: Contact GIGABYTE Sales
About GIGABYTE
GIGABYTE is an engineer, visionary, and leader in the world of tech that uses its hardware expertise, patented innovations, and industry leadership to create, inspire, and advance. Renowned for over 30 years of award-winning excellence in motherboards and graphics cards, GIGABYTE is a cornerstone in the HPC community, providing businesses with server and data center expertise to accelerate their success. At the forefront of evolving technology, GIGABYTE is devoted to inventing smart solutions that enable digitalization from edge to cloud, and allow customers to capture, analyze, and transform digital information into economic data that can benefit humanity and "Upgrade Your Life". Please visit https://www.gigabyte.com/ for more information.