Despite digital pollution levels surpassing the global air transport industry combined, and this being set to double in the next 2 years according to the Shift Project, air cooling remains the most common cooling method; at Submer, armed with our immersion cooling technology, we've made it our mission to change that and the way we store electronics for the better.
What started as two brothers-in-law testing immersion cooling in their children's plastic swimming pool evolved into successfully using dielectric fluid to remove heat from servers and dramatically improving efficiency and performance with an environmentally friendly technology. Flash forward a few years and we now have the pleasure of enabling companies around the world to optimize operations and save the planet – one pod at a time! 
We've picked out 3 things that differentiate Submer's immersion cooling from the rest: end-to-end solutions, scalable technology, and sustainability in our DNA. If you're wondering what Submer can offer up against this rapidly growing market, stick around!
Turnkey Submer Solutions
Rolling out immersion cooling in your new or existing infrastructure is made easy with our ready-to-go solutions that cover primary cooling, secondary cooling, and resilient pump sets, all the way to certified hardware with a guaranteed and unrivaled end-to-end PUE. Born from our in-house expertise, our solutions can be deployed anywhere in the world.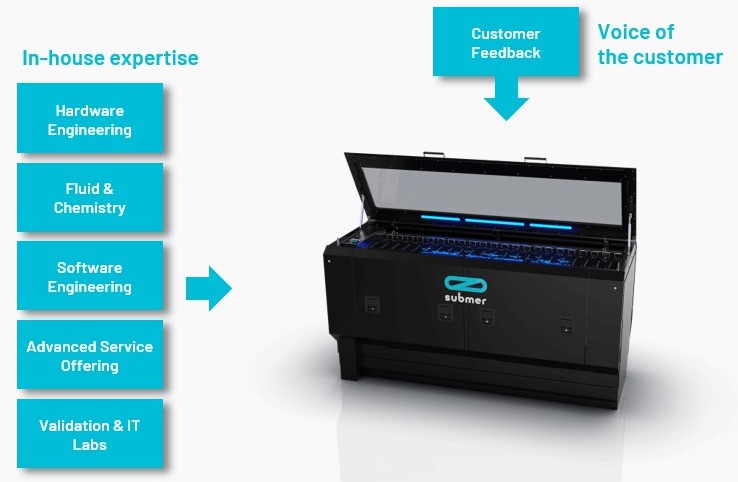 Plus, our network of esteemed partners also makes any immersion cooling adoption run smoothly. At Submer, we understand that it can be difficult to decide what solution can work best for you and the complexities involved in choosing the right elements that need to be considered: servers, nodes, and capacity – just to name a few. So, we've done the hard work for you and simplified the decision-making process!
Scalable Immersion Cooling Technology
The degree of cooling difficulty is increasing and isn't showing any sign of stopping. Immersion cooling offers incredible flexibility in terms of site location. Abide by government regulations, save on power significantly, and upgrade to more powerful servers by retrofitting into your existing infrastructure. By moving from high density hot aisle containment pods to 1MVA halls without relocation, you're also avoiding contributing to concrete's 8% of global CO2 emissions.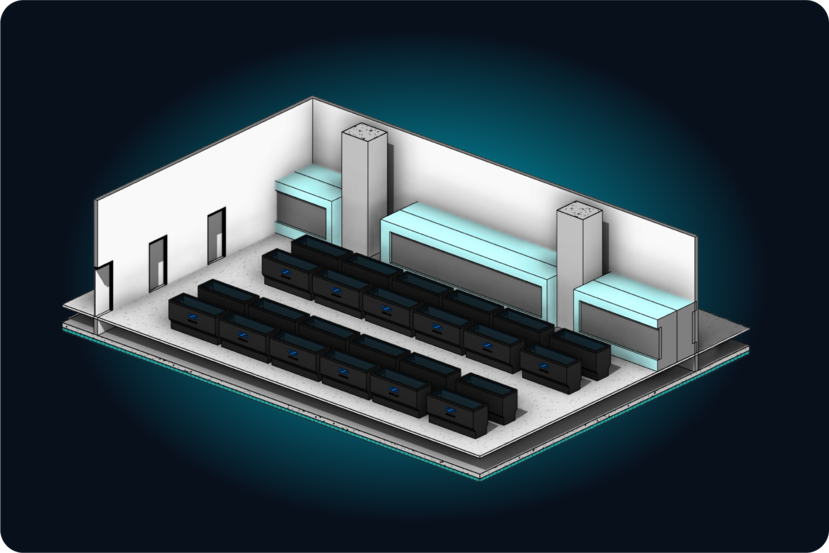 Immersion cooling also requires less space and you no longer need to worry about cooling the room environment surrounding your hardware. What was once used to house CRAC units can now be used for extra immersion infrastructure or serve other operational purposes. The same goes for space previously taken up by hot and cold aisles, which can be repurposed for cable management and more.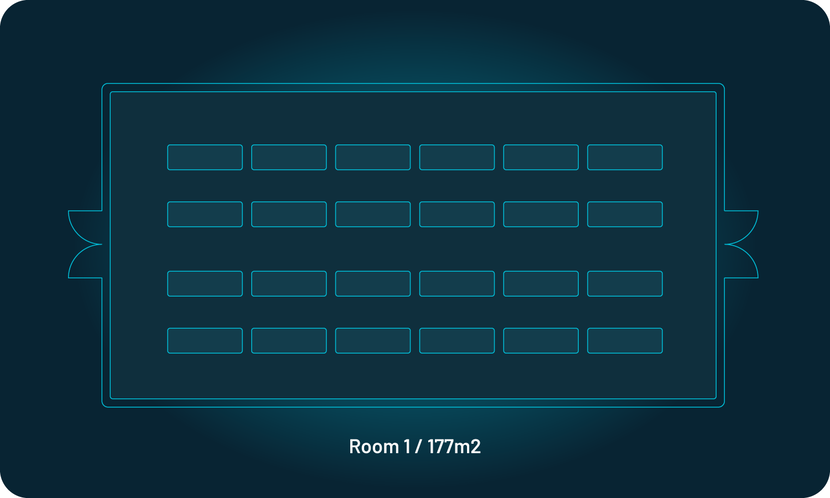 Sustainability & ESG at Our Core
We've arrived at one of our favorite things to talk about: sustainability! According to the US Environmental Protection Agency, the conventional datacenter uses around 464,242,900.6992 liters of potable water every year. By making the switch to the renewable resource of immersion cooling, you can bring this figure down to almost zero.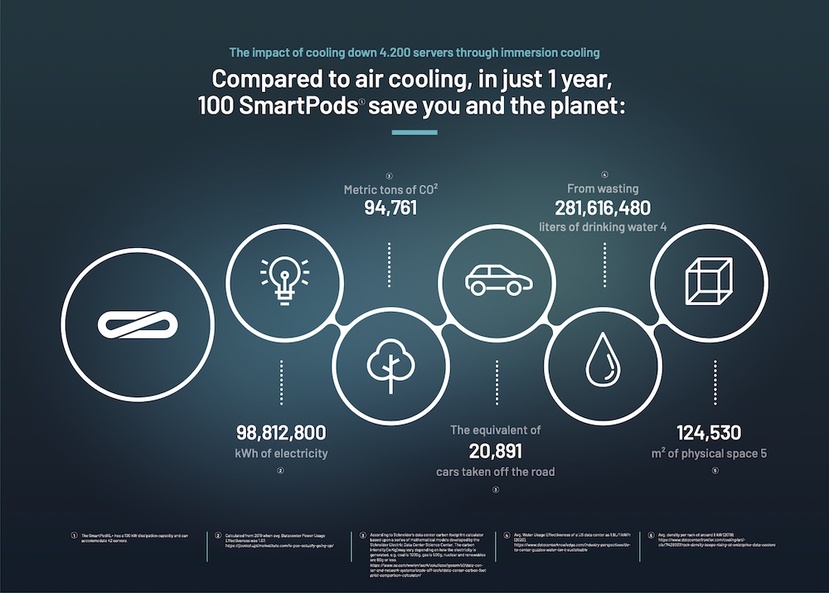 One thing that we pride ourselves on is the SmartCoolant's environmental cleanliness: biodegradable, non-toxic, non-flammable, and non-corrosive – plus, it lasts longer than the lifespan of your average data centre. Its food-grade components make it non-hazardous for your workers and since this liquid collects the generated heat, 99% of which can potentially be reused for purposes such as heating the building or surrounding areas. Currently 98% of energy consumed is rejected as heat into the atmosphere and so, as big advocates for environmental stewardship, the opportunity for heat reuse that our technology is something that cannot be overlooked.
As we write this, we are building a wider portfolio of immersion cooling fluids as a result of our fluid agnostic efforts where we are running tests for the approval of use in our tanks. Recently this year, Nathalie Cruchet joined the team as our Head of Sustainability and ESG to amplify sustainability tactics across the board and as part of a larger initiative to make our mission more evident on a global scale.
Summing Up
That just about covers what we believe makes Submer special. In terms of turnkey solutions, we're proud of our in-house expertise (and grateful for it in our day-to-day!) and our all-encompassing partner network. Our scalable technology means we are future-proofing facilities and staying apace with all the constant advancements in the digital space. As far as sustainability and ESG goes, immersion cooling is not only a way of abiding by increasingly strict regulations but also making data centers significantly kinder to the planet.
While these were the 3 that factors topped our list, it's true that these are just the tip of the iceberg of how you can advance your datacenter with Submer solutions. If you're thinking it's time to take your company into the new age, don't hesitate to get in touch!