As one of the biggest telephone operators and mobile network providers in the world, Telefónica is constantly on the lookout for ways of improving efficiency. For this reason, the Telefónica team decided to run a pilot test for immersion cooling for telecommunications in worst-case scenario conditions with one of our SmartPod XL+s during the hot summer season in Madrid, Spain.
Reliability, Efficiency, and Hardware Performance
Telefónica firstly carried out thermal capacity tests to check that the Submer cooling system would maintain the temperature of the coolant in the SmartPod below the setpoint limit of 55º C and under maximum load conditions of the equipment.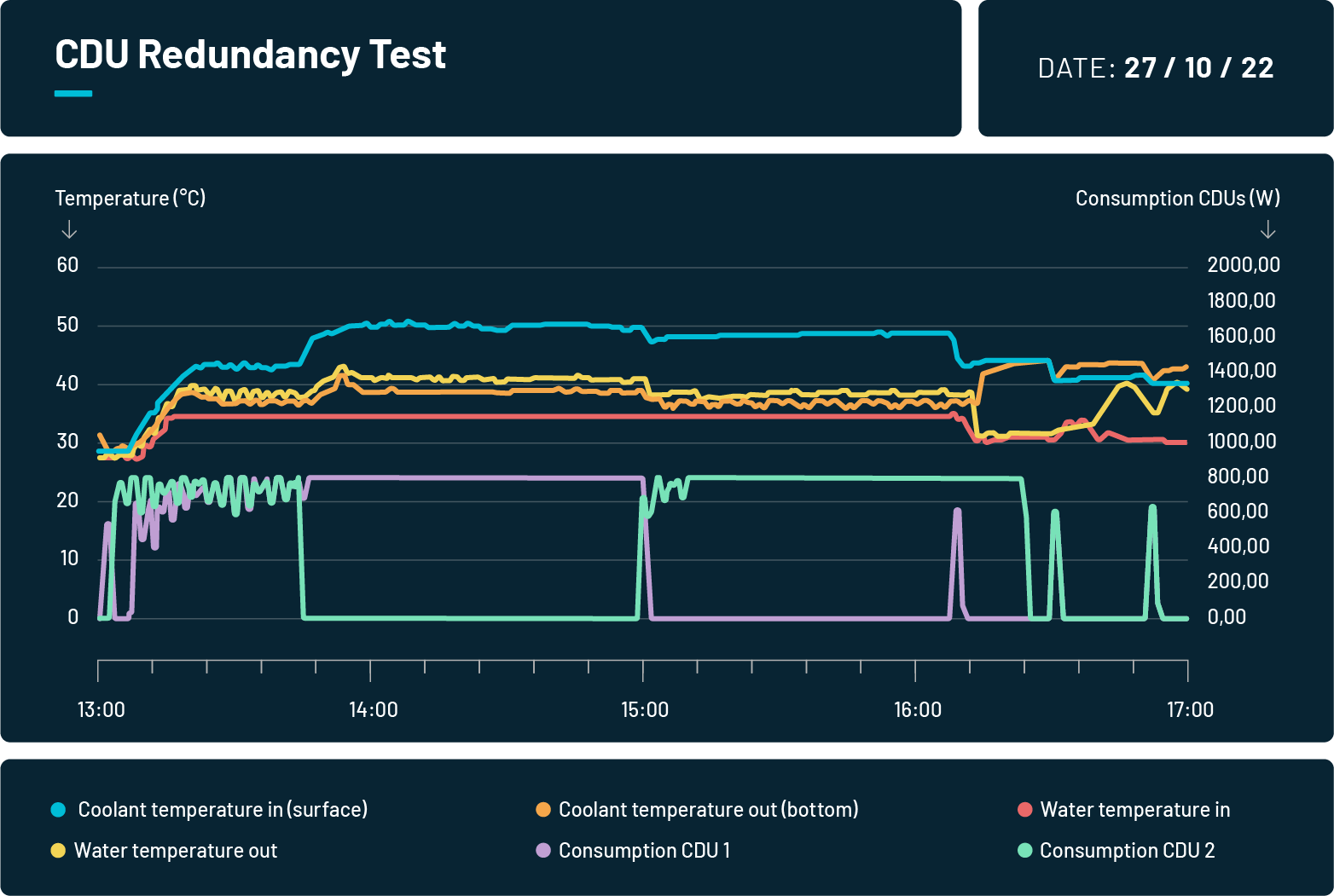 These tests proved that Submer's immersion cooling technology kept the temperature of the coolant stable, even in extreme operation, below the maximum target temperature of 55º C, and with the maximum possible load of equipment inside, dissipating 50 thermal kW. Telefónica found that the system offers 100% redundancy of the two CDUs and can work with the CDUs together or either one on its own. Both were deemed capable of coping independently with the 50 kW thermal load of the SmartPod.
Efficiency testing followed; specifically, to obtain the efficiency indexes of Submer's immersion cooling solution. Since there are no differences in terms of power elements, such as the UPS, transformers, etc, between immersion cooling and traditional solutions, the focus lay on the cooling part.
Lastly, hardware performance testing came in, with multiple objectives along with it. The main objective was to determine whether the performance of the equipment was affected to any extent by varying the temperature of the coolant. Telefónica also aimed to monitor the temperature reached inside the equipment (mainly the CPU) to determine how they behave when reaching temperatures higher than usual in air cooling environments. Then, to compare the results with the usual operating values in air cooling. Lastly, to detect any potential drawbacks of this type of solution, taking into account how the operation and maintenance by Telefónica's IT technical experts at their datacenter.
The case study covers how the SmartPod XL+ fared in terms of:
PUE performance
the stability of the coolant under extreme temperatures
the processing capacity of the hardware
reduction of non-IT consumption
energy savings
TCO
To understand the case in detail with the results obtained and subsequent conclusions drawn by Telefónica, download the case study using the form below.